The Grosvenor Room has many resources to help you research Buffalo's rich music history. The Buffalo Collection includes books on music organizations and musicians, as well as scrapbooks and newspaper clipping files. Check out our new research guide on Buffalo Music History.
We have a unique collection of thousands of programs chronicling music performances from the 1840s to the present, from piano recitals in private homes to concerts by famous conductors, orchestras, and opera singers. Fifty selected programs from the collection are available online in our digital collection – Historic Buffalo Theater and Music Programs.
The bulk of the collection is from 1860 to 1930 and includes performances of dance, opera, musical comedy, orchestras, chamber music, choirs, and instrumental ensembles. Many local venues hosted famous musicians and composers including Ignacy Jan Paderewski, Jenny Lind, Geraldine Farrar, Maurice Ravel, Walter Damrosch, Gustave Mahler, Lily Pons, and Serge Rachmaninoff.
Buffalo audiences also heard the music of opera companies and symphonies from New York City, Boston, Chicago, and Pittsburgh. Early Buffalo orchestras and singing societies, including the Buffalo Symphony Orchestra, Buffalo Orpheus, and Chromatic Club, are also documented in this collection, as are the music halls, theatres, social clubs, museums, and other venues at which they performed.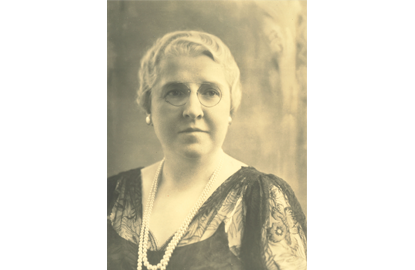 Many of these notable musicians and ensembles were brought to Buffalo concert halls by successful female impresarios, including Mai Davis Smith, Marian de Forest, Louise Michael, Genevieve Kraft, Bessie Bellanca, and Zorah Berry. Smith, De Forest, and Berry also saved photographs of the renowned performers they met, many of which are autographed. These make up the core of another unique resource in the Grosvenor Room, the [Performing Artists Photograph Collection], 1890-1976.
Another successful entrepreneur in Buffalo music history is Ann Montgomery, who operated The Little Harlem Club/Hotel on Michigan Avenue. From the 1930s through early 1960s, Count Basie, Louis Armstrong, Billie Holiday and others performed at her nightclub. A selection of programs and photographs from the club are featured in another digital collection – Ann Montgomery's Little Harlem.